Letter Head Printing In Lagos
1: Designing Letterhead for Lasting Impact
Even in our digital age, companies still rely on printed letterhead for professional communications. Contracts, client or fundraising letters, internal memos and other company documentation still make their best impression on commercially-printed letterhead, especially with matching envelopes.
Letterhead Design Tips
Your letterhead reflects your organization's image, personality and quality. Express who you are on paper through the different design elements on your letterhead or your letterhead and envelope sets. Keeping the look and feel consistent with your other marketing materials is also important for reinforcing a professional identity. Follow these tips to dress up your letters: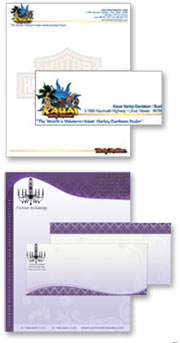 Overall design: How do you want to come across? Solid and steady, quirky and creative, or stylish and sophisticated? A simple design with your logo and contact info may be appropriate for the type of business you have, or you may need a stronger dose of graphics to create the right image.
Letterhead Content: Baseline is your company name, address, phone numbers and email address. Also include your logo, company website and slogan, if you have them, on your personal or corporate letterhead. Be creative on where you put the info, you're not limited to the top of the page!
Fonts: What fonts or typestyles best reflect your business? Fonts can be formal or fun, classy or cool – try a few and see what fits with your logo and your style. Or, use what you already have on your other marketing materials. Make sure the fonts you use are readable and not too small – generally stay between 9 pt. and 12 pt.
Color: If your company logo is usually black and white, printing your letterhead in black ink only may suit your image just fine. Otherwise, use color to grab attention and reinforce your brand identity. Even the background can include some color, if it's light enough for the text of your letter to be read whether printed or handwritten.
And don't forget companion printed envelopes to make a great impression! You'll generally want to keep your return address at the top left for postal use, but you can be just as creative as on the letterhead in look and feel with fonts and colors on your envelopes. Letter head printing and Designing envelopes in tandem creates a unified brand image for best impact.
How do you look on paper?
A great design is only one half of the blueprint for sensational stationery printing. The paper you choose for your letterhead printing is just as important. Look for the following characteristics:
Finish: Smooth or textured, you'll want a quality uncoated stock that you can run through your laser or desktop printer without smudging. Smooth stocks show off your color designs the best and are less expensive and more commonly available and cost effective, while textured stocks such as linen or laid offer a nice tactile, high-end feel. If you want to match your letterhead more closely to your business cards or brochures printed on glossy or dull/matte coated stocks, go for smooth stock.
Weight: Don't settle for less than premium-weight paper for your letterhead and envelopes – the standard bond paper most offices use for copying and printing won't give you the sense of quality you want to convey in your official letters. Look for 70 lb text or 24 lb bond. You can feel the difference!
Color: While plenty of options are out there for colored paper, you can get the same effect by using a colored background in your design that's printed on often less-expensive white paper. Be aware that ink prints differently on colored paper than on white, so determine what you're trying to achieve before deciding on a colored stock for your letterhead.
Sustainability: You don't have to sacrifice quality for environmental responsibility. Choose environmentally responsible papers, or ask about fine writing papers that include recycled content which may help you for the best letter head printing materials
Work with your designer or favorite graphic design software to put your ideas in motion and create unique letterhead printing that beautifully shows off your business for just pennies a piece.
No. Sticker label printing is not just for children's craft books. It's actually an effective business tool! Although an often overlooked marketing method, sticker label printing is an amazing way to foster brand awareness without breaking the bank on costly advertising channels. In this post, We help highlights the benefits of sticker label printing and provides some practical advice on how to use stickers and labels to promote your business.
What are the benefits of sticker label printing?
Versatility – Business stickers and labels can be placed just about anywhere and are resistant to weather damage.
Affordability – The one-off cost of printing business stickers and labels is far less than the recurring costs associated with the likes of TV and social media advertising.
Targetted – Business stickers and labels can be strategically placed in busy areas in which your target audience are likely to conjugate.
Consistency – Carefully designed business stickers and labels will lead to a consistent brand experience and accelerate customer purchasing decisions.
Complementary – Sticker label printing is the perfect accompaniment to robust advertising campaigns.
Referability – By supplying customers and clients with business stickers and labels, they can gift them to members of your target audience that have not yet initiated a relationship with your brand.
How to use sticker label printing in your business
Address labels – Printed address labels are the cost-effective alternative to envelopes, enabling eCommerce business to add their branding, contact information and returns address to their online delivery packages with ease.
Client gifts – Stickers and labels can spruce up client gifts by adding a personalised message, thus reinforcing your appreciation for their custom.
Window decals – Business stickers and labels can elevate your presence on the high street by grabbing the attention of passers-by and sparking interest into the products or services that you have to offer.
Promotional possessions – Creating branded stickers and labels for the likes of mobile phone cases, laptops, CDs and water bottles is great for turning your customers into brand advocates and fostering awareness.
Sticker label printing at XINI
We offer a wide range of sticker label printing options, including A sized stickers, round stickers, square stickers and rectangular stickers. What's more, we supply CD and DVD adhesive labels with a 17mm hole. At XINI Prints we let you add artwork such as business logos and marketing messages to help you create the perfect marketing tool. All of our round, square and rectangular printed stickers are kiss cut to ensure easy peeling and are supplied on handy A4 sheets. Our A-sized printed stickers are available from A7 right through to A3 and are printed on quality white 170gsm silk or gloss permanent adhesive, with a Marine Grade waterproof adhesive option for outdoor use. Visit us to find out more about sticker label printing.
Always be free to contact us for all you printing cost including your letter head printing